Services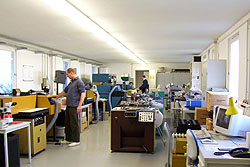 ENTECH provides a full LASER TRIMMING Service for thick film and thin film products. We have a long experience with laser trimming and hybrid technology. Our highly qualified staff runs 3 laser trimming systems optimized for thick film or thin film processing. We are well equipped to meet a large list of customer needs. Our services include:


CONTRACT TRIMMING of customized hybrids. Thick film and thin film. Passive and active trimming
Laser TRIMMING consulting.
Development of TURN-KEY solutions to match customers needs.
JOB SHOP: We trim your hybrids on our laser trimming systems.
JOB SHOP: The customer is able to develop his laser trimming process on our systems (processing of prototypes and evaluation masters).
MICRO-MACHINING of customized materials and products.
Thick film custom hybrids.
We are pleased to help the customer who is planning the purchase of a new laser trimmer by working together with him and US and German trim system manufacturers. ENTECH also provides service and spares for specified laser trimming systems.